QUALITY & PRODUCT SAFETY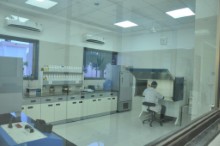 QUALITY CONTROL LABS monitor the quality of raw materials, as well as semi-finished and finished products. These facilities are well-equipped to maintain quality standards across the globe and across industries.
Physical & Chemical Analysis: Guar Gum is analysed for
Odour & Colour
Viscosity
Granulation
Moisture, pH
Protein
Acid insoluble residue

Fat content
Ash content
Gum content
Heavy metals
Insolubles
Filterability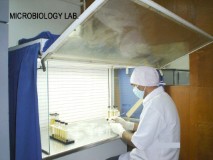 MICROBIOLOGICAL LABORATORY - Performs bacteriological process control & testing of food grade products. It is well equipped for all types of microbiological analyses and testing.
Standard plate count
Yeast count
Mold count
Coliform

E-coli.
Salmonella
Staphylococcus
Pseudomonas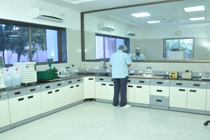 OIL LAB - For development of new products and product testing.
TEXTILE PRINTING LAB - For assessing the performance of printing thickeners on various fabrics using different dyes.
ICE-CREAM PILOT PLANT - For product testing and research on stabilizers and emulsifiers.
Besides high emphasis on Quality Control and Quality Assurance, Hindustan Gum has developed very robust manufacturing processes to detect contamination at the source. Strong magnets and control sifters are installed in the process line to control metal and foreign contamination. Finished product bags are passed through a metal detector.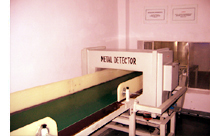 Hindustan Gum has independent quality control and quality assurance departments at all three units, backed by qualified quality technicians.
The following international GMP standards are impregnated with FSSC 22000:2010 norms for complete food safety & security.
Kosher and Halal certified food grade products.
Modern water treatment plant to treat process & utility consumption water.
Physical separation of processing zones & finished product packing zones.
Metal detector & double-control sieving system for product packaging to ensure completely contamination-free finished products.
Exclusive container loading/stuffing station with on-the-spot container securing arrangement under the vigilance of State Govt. officials.
Separate & secure warehouses for storage of raw and finished goods, free from birds, pests, rodents & insects. Pest control operations are carried out by agencies of international repute.
Trace recall procedure followed for easy traceability of finished products.
Full facility is well protected by a high boundary wall and security personnel are posted at factory/exit gates for round-the-clock vigilance. Strict code of conduct is followed by workmen & visitors.